What's in a name?
July 14, 2022
"What's in a name?" William Shakespeare asked in "Romeo and Juliet."
Authors put a lot of thought and creativity into the titles of their works. The title has to do so much: attract readers' attention, identify the genre, suggest the content, be memorable. Although once I liked a word so much I wrote a novel just so I could use it, I usually find the title is the hardest part to write.
The title of Naked Came the Sharks presented no such problem. Something of an in-joke, it was inspired by another work.
Naked Came the Stranger by Penelope Ashe was published in 1969 and was a commercial success, becoming a national bestseller. Sales quickly reached 20,000 copies.
Shortly thereafter it was revealed to be a hoax. The book hadn't been authored by "Penelope Ashe," which was a pseudonym, but by 24 separate Newsday newspaper writers. They collaborated to craft a sexually explicit novel with no redeeming literary or social value. They had become convinced that popular American literary culture had become so base any book could succeed if it had enough sex in it. Each chapter was written by a different author with no effort to achieve any consistency. Some chapters had to be rewritten because they were too good; some of the authors were so skilled as to have won the Pulitzer Prize.
After the revelation, sales soared to 90,000 copies and by the end of the year, the book had spent 13 weeks on the New York Times bestseller list. At one count it had sold 400,000 copies.
In 1996, thirteen Miami area writers set out to do something similar. The result was Naked Came the Manatee, mystery/thriller parody.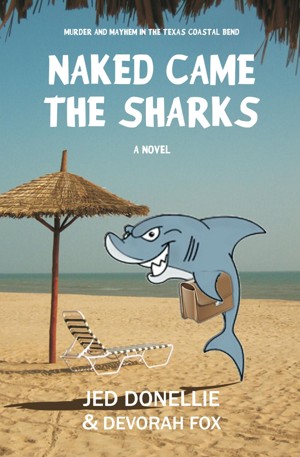 Years later, when four South Texas writers decided to collaborate on a novel, they took a page, so to speak, from these previous collective works. Naked Came the Stranger became the inspiration for the title. Rather than invent a pseudonym for the author, the team decided to craft an acronym of the four writers' names. (How four people managed to work on the same book and remain friends is the subject of a future post.)
Want to see what they came up with? The ebook edition of Naked Came the Sharks is on sale this month on Smashwords.com.