Author Interview: Devorah Fox
October 31, 2016
Thanks, Jessica, for hosting my interview today. Jessica asked some unusual and probing questions.
Coffee with Architects of Worlds Afar
Imagine waking up one morning to find that you've been mysteriously transformed into a homeless vagabond. It's hard to argue against the position that such a predicament would be less than ideal, not to mention wholly undesirable! Now, consider this: though you are presently inexplicably dispossessed, you were a respected king less than twenty-four hours ago. So is Robin Bewilliam's plight in The Lost King — book one in the aptly-titled The Bewildering Adventures of King Bewilliam series. 
Coffee with Architects of Worlds Afar is pleased to introduce the author of The Lost King, Devorah Fox. Before we sit down with her, let's take a look at some of her books' covers.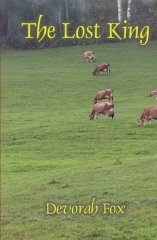 1. Do you recall the moment you first conceived the idea for your series? On a related note, how different is the final product (the books) from your original vision?
I began The Bewildering Adventures of King Bewilliam…
View original post 989 more words